Bread Ref. 130643
Crystal Bread Rustic Stick Sanwich Express 150g
Durable and easy to eat thanks to its soft, light and fluffy texture, quick and easy to prepare!
All the features of our glass range now in a snack stem format.
With a soft, alveolate, very aerated and a crunchy crust. It is very quick to prepare, ready with only 4 to 6 minutes of cooking.
With olive oil
It contains sourdough
100% NATURAL ingredients
Long rests
Express
Highly hydrated
Crystal alveoli
High durability
Vegan
Technical details
Net weight

150 g

Long

27 cm

Quantity per box

45 u.

Boxes per pallet

28 boxes

Baking temperature

180 ºC

Defrosting time

30 min

Baking time

4-6 min
Made with olive oil, the basis of a healthy mediterranean diet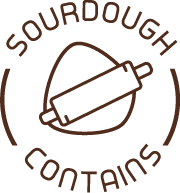 Breads made with Our Own 100% Natural Sourdough, which gives our breads a characteristic taste. Sourdough is the natural ferment that has been used for centuries to make bread.
Breads made using only 100% NATURAL Ingredients, Additive-Free, E-number free.
The quality of the raw materials and the artisan process allow a high hydration of the products, which translates into greater durability.
Quick preparation breads. Crunchy and perfect with only a few minutes of thawing and baking. The perfect solution for moments of great audience influx in you establishment
Breads made with very long rest and fermentation times, which promote the release of the aromas, textures and flavours of a great bread.
Made with foods that do not have an animal origin